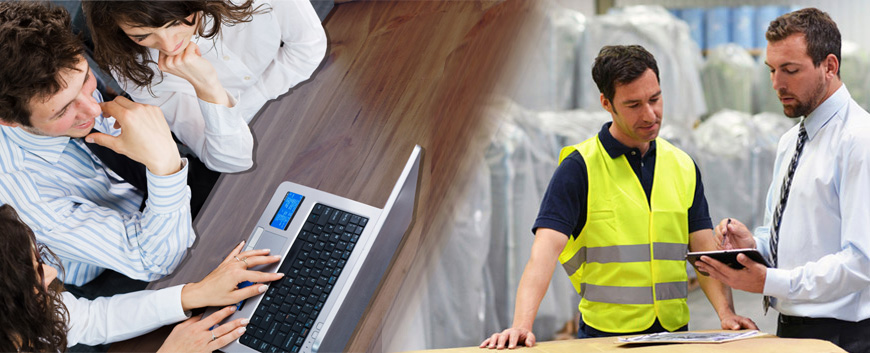 Overview of our services
Customer Care
Customer care at OK Logistics means more than just customer service
Every one of our customers has a personal, dedicated point of contact for day to day business.
Due to our multi-channel structure,we are available at any time and your requests are dealt with immediately.
We know your requirements and are happy to assist you with any queries you may have.
In addition, our customer service controls many services along the logistical processes.
Have a look at the varied services we offer in the following overview:
For any other, specific requirements you may have, please get in touch!
Order receipt / Order placement
Your customers are ordering directly with our qualified staff, in person, by telephone, via fax or email.
Ordering through an online webshop is also possible. All necessary data is exchanged via interface or with the help of an internet application.
The order is then directly placed into our IT system and can be dealt with immediately.
Your entire shop can be administered by us, including packing space for assembly to guarantee quick dispatch.
You lower your fixed costs and can be flexible when demand is volatile.
Order management at OK Logistics comprises such things as:
Customer Care Center (In- und Outbound customer service)
• Order receipt
• Order placement and processing
• Invoicing including physical printing and posting (or via email)
• Payment Process
• Dunning procedures
• Credit limit controls for your customers
• Credit assessment
• Reports/Controlling
Bookkeeping
Take-over of existing bookkeeping from other system or setting up a bookkeeping system with new data
Collection of receipts (possibly including digitisation)
Registering of running business transactions in a client account via our ERP
Administration of accounts receivable
Credit assesment
Dunning procedures
Administration of accounts payable
Preparation and execution of payments (we just need approval form the client)
Evaluation of material according to client guidelines or our recommendations
Fixed assets accounting
Travel expense accounting
Sales and commission accounting
VAT return
Submission of the recapitulative statement (German law § 25b Abs. 2 UStG)
Reports to third parties (e.g German packaging ordinance)
Reporting, sums and balances, open positions list (as desired)
Management analysis
Annual and quarter financial statements
Preparation of year end audit
Export of all data at any time into different formats (e.g. DATEV)
Archiving of all according to legal requirements
IT
Intelligent IT for logistic processes
Our flexible and highly efficient IT system is essential to achieve our high standards of quality and to optimise the logistical processes.
Due to the varied demands of our logistics customers, we recognised early on that standard IT solution can only be integrated up to a certain level into processe and so, together with the Fraunhofer Institute, we have developed our own IT system which we can adjust to your specific needs with our in-house team. This means we have a solid foundation for the control of your product flow.
Therefore – not only can we make processes more efficient – we can also tailor the processes to be as cost effective as possible. Of course, we also make sure that your orders are dealt with reliably and with attention to detail.
Maximum flexibility in line with your individual requirements
Transparency of all logistical processes
Continuous flow of information due to homogenous systems
High level of security and constant availability of data
Direct communication with our OK-Logistics-IT-Service centre
Shipping / Distribution
Intelligent Transport for your products
A good infrastructure and long-term business partnerships with qualified freight service providers ensures a fast and efficient transport of your products to your customers whether B2B or B2C, be it a single package or a full lorry load.
We can arrange transport to perfectly meet your needs.
We have the necessary experience and know-how to provide reliable, smooth shipping.
We use all options available to ship your goods – via air, sea and on land.
Ordered today – delivered tomorrow!
A short summary what this means for you:
Cheaper freight rates due to large volume places with freight providers
Standardised transport and turnaround times from 24 – 48h within Germany and epress services
Worldwide delivery
Express deliveries within 24 hours Europe-wide
Express deliveries worldwide with good turnaround times
Late pick up of goods possible
Orders shipped the same day as called off
In-house delivery vehicles
Handling of all customs documentation
Destruction / Disposal
No matter what type of product, we will be able to deal with it
The basis of life mean using the available resources and the world wide economic growth is dependent and put pressure on these natural resources and raw materials. Therefore it is vital that resources are used intelligently for future generations.
When dealing with destroying unuseable products or confidential data, we ensure these are dealt with professionally and reliably. Our service providers do not just guarantee utmost safety but by outsourcing you can concentrate on your core business and save costs.